March 9, 2022
Accessible participation - your contribution to more inclusion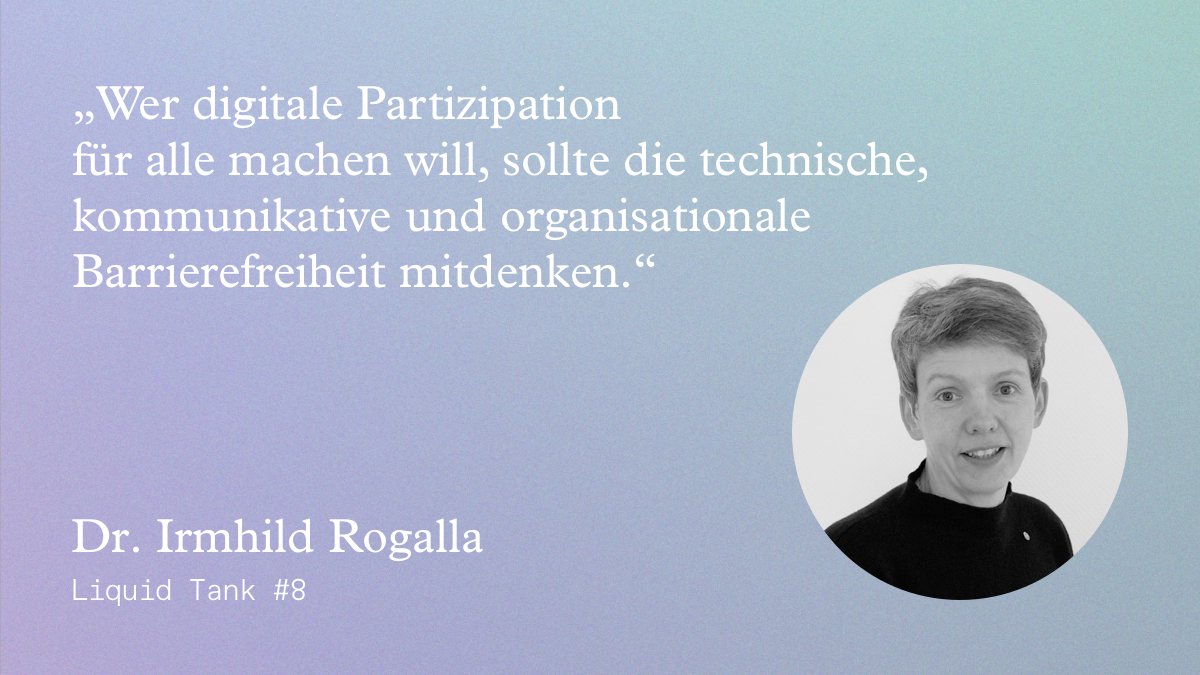 Liquid Tank #8, Zitat von Frau Dr. Rogalla: "Wer digitale Partizipation für alle machen will, sollte die technische, kommunikative und organisationale Barrierefreiheit mitdenken."
Making participation a given for everyone is close to our hearts. We are continuously working to improve our free participation platform adhocracy+. Unfortunately, many people are hindered by barriers in the digital space. That's why we want to make adhocracy+ even more inclusive this year and improve access for participation on the platform. We want to get a lot closer to our vision of a democratic culture in which participation is a (self-evident) part of everyone's life.
In the eighth edition of our Liquid Tank series, we spoke with Dr. Irmhild Rogalla, co-director of the Institute for Digital Participation at Bremen University of Applied Sciences, about digital accessibility in participation projects and important prerequisites for an exchange on equal terms.
In her presentation, Dr. Rogalla shared important findings from the project "Partii - Participation inclusive" of the Institute for Practical Interdisciplinarity and talked to us about the implementation in the (design) of participation processes. We have summarized Dr. Rogalla's presentation and the subsequent discussion for you. Here you can find the summary and the video of the presentation in our Academy.
Donate now for more inclusion:

­