Aug. 19, 2020
Interactive Event - The Module that Democratizes Live Communication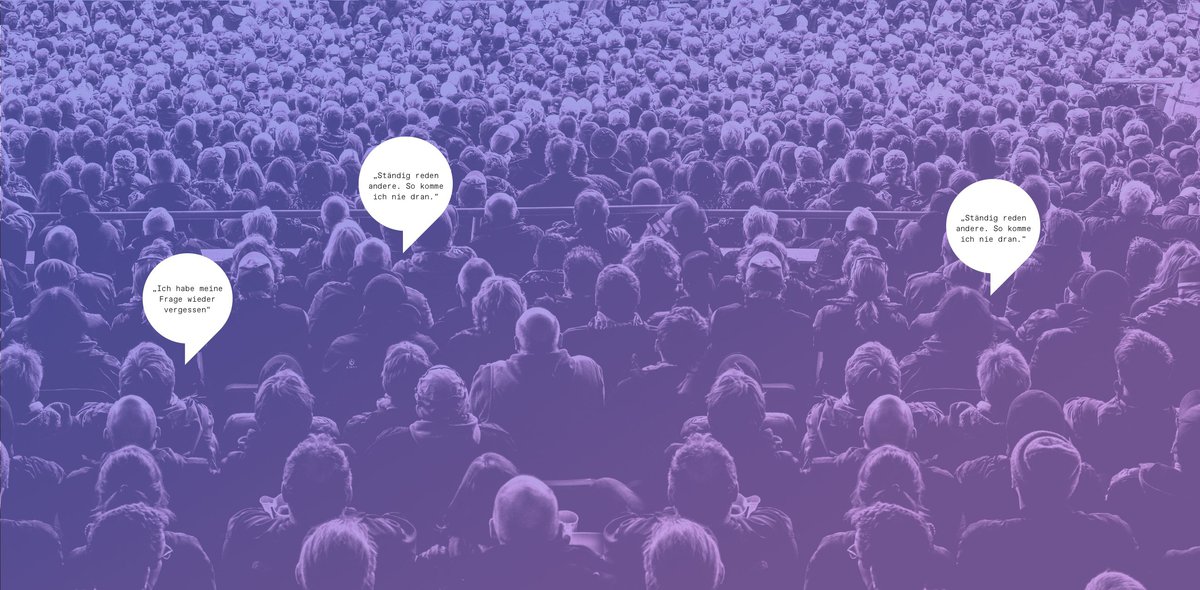 At Liquid Democracy, we see discussion and debate as an important part of our democracy. They provide the space to experience and practice democracy. Every year, discussion events offer thousands of people the opportunity to contribute their thoughts and ideas - at least in theory. All too often, discussions are organized in such a way that most participants remain in a spectator role. We have developed a digital tool to make discussions more democratic. In this article we explain how the module works and how you can use it on adhocracy+. There are also some future developments planned for this module - stay tuned!

Are discussions democratic?

We all know it from pre-corona events: An event with a panel discussion. The discussion is opened for questions from the audience. The first supposed question is asked - and the common participant quickly realizes: the person is not asking a question, but taking the space to state his opinion long and wide. This not only leads to the discussion becoming long-winded and boring, but also to it being dominated by a minority. The rest of the participants are not represented and, in the worst case, drop out of the discussion. This is not democratic!
With the current increase in digital events, there is a very simple way to counteract this: Questions are introduced via the chat. In this way, even people who do not speak a lot can take part in the discussion. In some cases, moderators in digital spaces allow only written questions, because this gives them greater control over the speaking portion of the participants. What can we learn from these experiences for in-person events in the post-Corona era? And can digital tools support us here?
Our digial solution: The interactive event
As part of a funding competition, we developed the Interactive Event. It is a digital assistant that simplifies speech lists for moderators, raises awareness of speech domination, and thus enables more inclusive discussions.
The tool works like this: During an event, smartphones can be used to anonymously ask questions that are viewable by the moderator and participants. Participants can also "like" other questions to indicate which ones are particularly relevant. The moderator can filter and sort the posts as they see fit, keeping track of the speech list. The heart of the tool, however, is the traits setting. They make it clear who is participating in the discussion and who is being heard.

Who is talking?
Everyone is talking about youth but no one under 20 is getting a say? The room is full of women, but it's predominantly men who step up to the microphone? To prevent this, the moderator can define characteristics in advance (e.g., gender, age, location, etc.). Each person who asks a question digitally must assign themselves to a characteristic, which is then displayed next to the question. This makes it easier for the moderator to have a balanced discussion, because they can deliberately integrate questions from underrepresented groups into the discussion. A statistic that can be viewed by all makes it transparent whether this is successful. This transparency alone creates awareness among the moderator and the participants. 
Sounds good, doesn't it? So in order for you to be able to use the tool in the best possible way at your next event, we've put together a few more tips for you.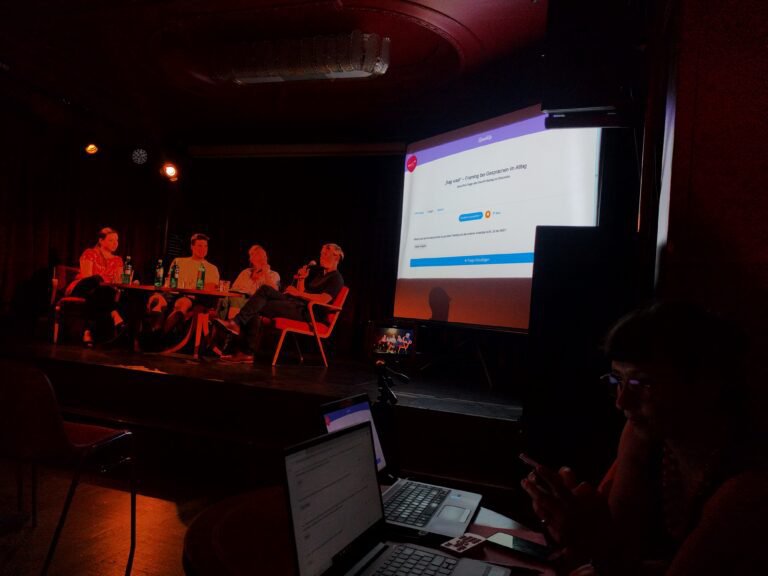 The Interactive Event in action.
Tips and tricks for implementation
There are a few points to keep in mind when preparing for your live democratic event:

1) Co-moderation
Our experience has shown: Moderating is a demanding task and requires a lot of attention - leading a discussion and filtering online questions at the same time can quickly become overwhelming. That's why we recommend co-moderation, which allows the moderator to receive contributions from the platform at an appropriate point. Alternatively, the platform can be projected on a wall so that audience and moderator can look at the submitted questions together.

2) Discussion format

The Interactive Event can be used in smaller and larger events. It is important to allow enough time for questions from the audience. This can take place, for example, as part of a classic panel discussion. 
The fishbowl method, in which a chair is left empty on the podium for guests from the audience to sit on, has also proven successful. Not everyone has the courage to present themselves in this way. With the Interactive Event, the co-moderator can become the "mouthpiece" of the quiet ones: They sort out the questions in the background and take the vacant seat at regular intervals. Nice side effect: The co-moderation thus brings movement into the circle and leaves the chair free again and again. People who make themselves comfortable in the guest seat are thus motivated again and again to sit back.
If you want to make it even more low-barrier, you can place the podium in the middle of the audience or incorporate small group work into the process, in which questions are formulated and set together. This would also integrate people who do not have access to mobile devices.
3) Naming characteristics

In advance, it is important to think about the meaningful selection and naming of characteristics. Who is likely to be particularly engaged in this context? Who should get special attention? Remember: the features are intended to make underrepresented groups visible so that they can be intentionally invited into the discourse. Be mindful of self-designations and avoid external attribution of groups. It's important to consciously think about the features so they can be inclusive!
Get started right away
Want to get started right away? No problem. The Interactive Event is the free and widely accessible open source version to traditional offerings that doesn't sell your data. It's browser-based, so participants don't need to register or download an app. A link or QR code is all it takes and everyone can join in. The tool can be used as a module on adhocracy+, so you're already in the right place!
With a little preparation and digital support, you can make your event more democratic and balanced. If you want to run an Interactive event yourself or have questions about it, feel free to write to us at start@adhocracy.plus.
This article appeared in the Digital Magazine D3 series on digital participation and is published under Creative Commons license by-nc-nd/3.0/.