July 21, 2023
New moderation dashboard and overview page for a successful online discussion
New overview page
There is now a new overview page for all users! By clicking on the button "My Overview", which can be found in the fold-out list under the user name, users can access their own overview. Here they can see all the organisations, participation projects and discussions they are participating in or following. Under "following", users can see all participation projects with the remaining participation time. Under "feed", new contributions or reactions to discussion contributions are listed. In addition, a thumbnail view on the left-hand side shows all organisations in whose participation projects users are involved and have initiator rights to create and edit projects.
Moderators can access the moderation dashboard by clicking on the "Moderation" button in the upper bar.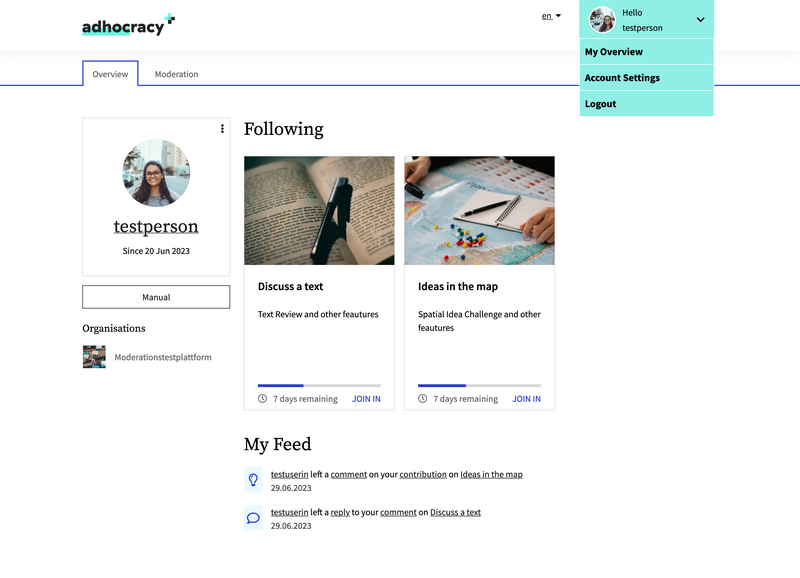 New moderation dashboard
For moderators of online discussions, we have now developed seperate moderation dashboard to support and simplify their important work! We have focused on the clarity and functionality of the moderation dashboard.
In the main overview, all participation projects in which the user have the role of moderator are displayed in a tile overview under "Projects". The remaining participation time and the number of contributions and messages are also displayed in the project tiles.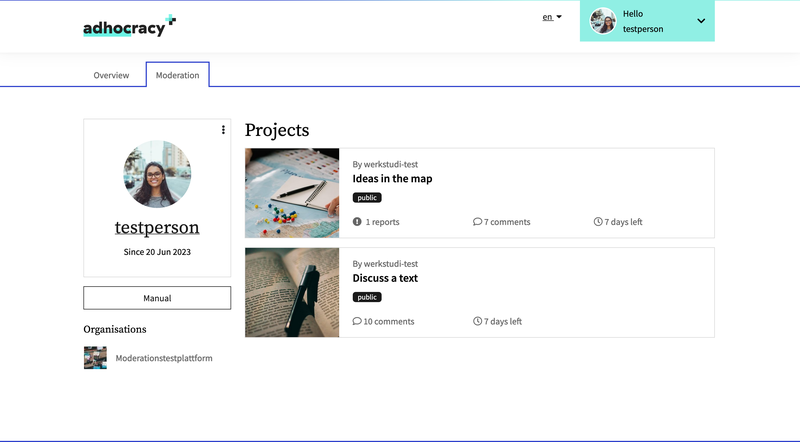 By clicking on one of the tiles, moderators can access an overview of the discussion contributions. In order to find their way through a lively discussion and to always keep an overview, 3 different filters are available to the moderators. They can filter the posts according to all & reported posts as well as unread & read posts. In addition, all comments can be sorted by "most frequently reported", "oldest" and "newest". In this way, several people can share the moderation of a discussion and structure their work.
In this overview, moderators can also intervene in the discussion and support a constructive discussion with the help of the moderation functions. For each comment, they have the option of reacting to it with a moderation comment, highlighting it or blocking it if necessary. All these functions can also be undone. Highlighting a comment, in particular, helps to activate the moderation of a discussion and to show participants that their contributions are being read and taken seriously.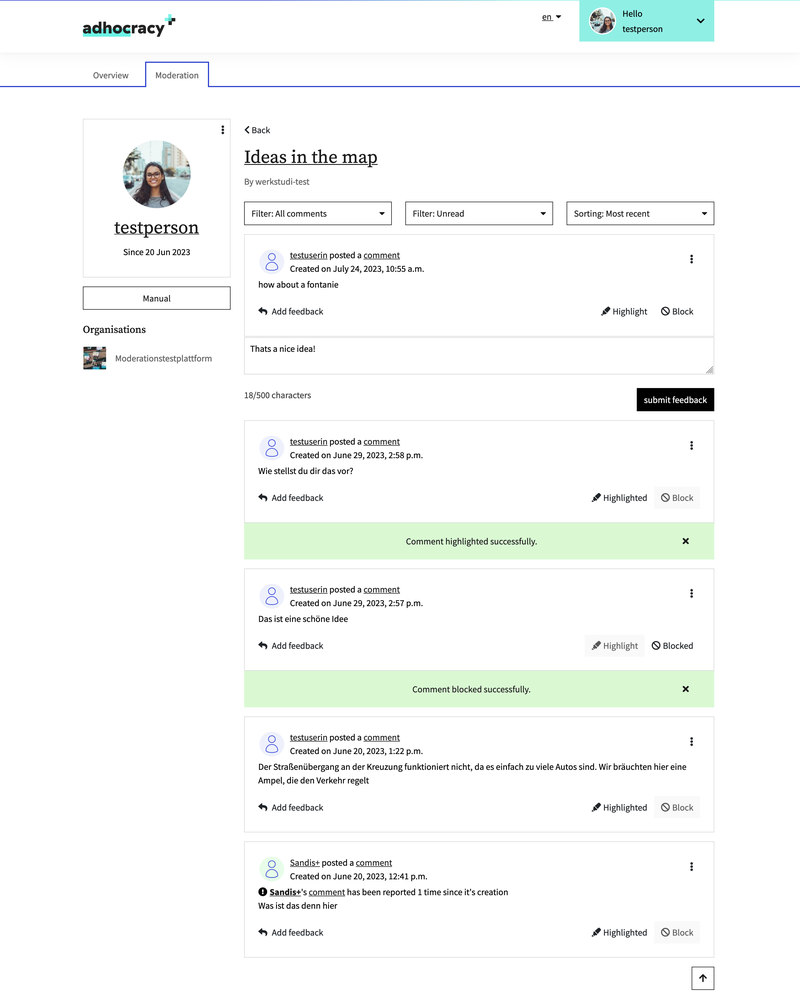 Everything for a good online discussion at one place !
We wish you much success in using it and are already excited to see how you will use the new functions for your next participation project.
If you would like to test adhocracy+ or register your own organisation, please contact us!