Nov. 6, 2019
Launch of adhocracy+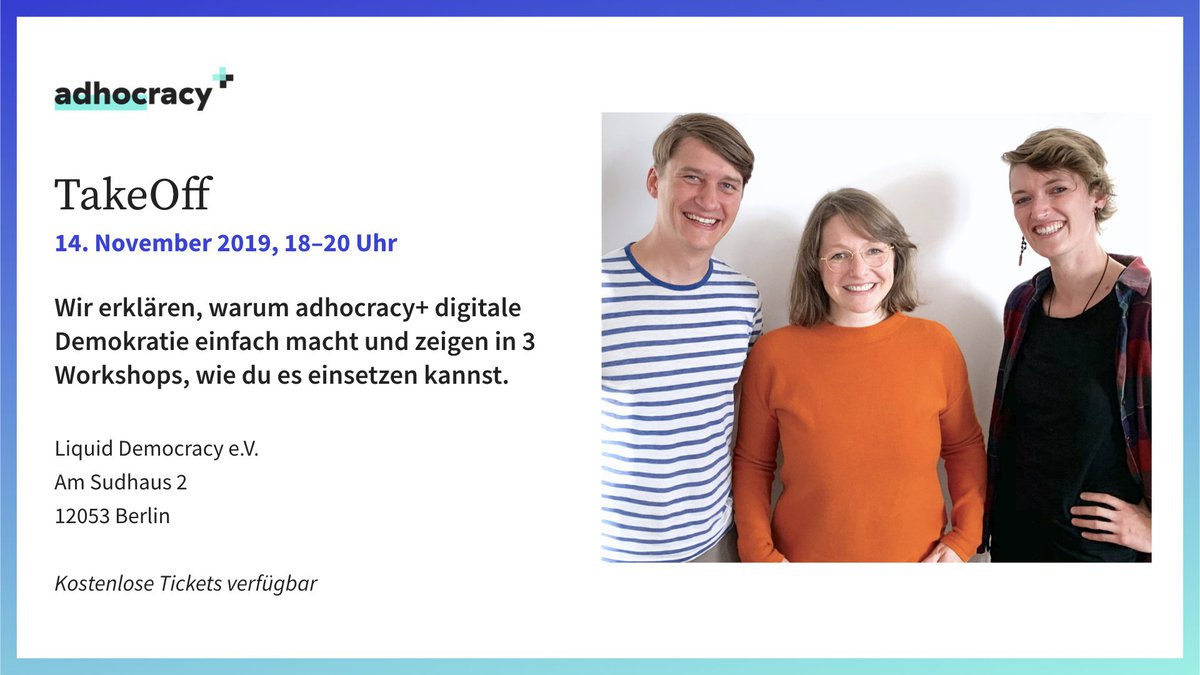 Since our foundation in 2009, we have been working to make digital democracy accessible to all. Because we are convinced that the best solutions come from developing them together and democratically. This is why we have developed the new participation platform adhocracy+ and can hardly wait to show it to you. adhocracy+ will make digital democracy easy: for everyone and everywhere. adhocracy+ is different from other platforms because the code is open source and we want to finance its operation mainly through donations.
For you adhocracy+ offers various possibilities. Are you a member of an NGO? Then design your mission statement together! Do you get involved in a community? With adhocracy+ you can easily carry out a participatory budget. Or are you a politician? Then ask citizens about their priorities. Democratic and digital.
At our TakeOff we don't just want to present the platform to you. In three different workshops you will be able to test the platform and experience how adhocracy+ can be used for your purpose. Further information can be found in our
programme
.
---
When?
Thursday, 14 November 2019 // 18:00- 20:00 Uhr
Where?
Where? Liquid Democracy // Am Sudhaus 2 // 12053 Berlin
---

We provide enough drinks and snacks for the small hunger. Here is the program of the evening. You will also find current information in our monthly newsletter.
We are looking forward to seeing you!