Projekt CORONUMBERS: COVID- Fallzahlen an Deutschlands Krankenhäusern
bestehendes Projekt
NEED: Fachwissen/SMEs
NEED: Entwickler*innen/Devs
NEED: Designers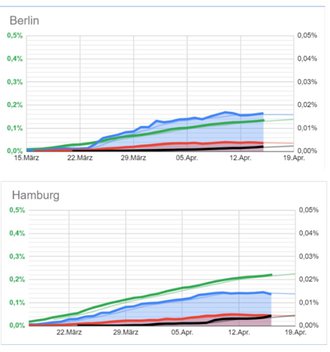 Infektionsraten und Todesfälle sind in den offiziellen Statistiken zu COVID-19 omnipräsent, während Hospitalisierungszahlen gerade für Deutschland schwer zu finden sind, inbesondere für nicht intensivpflichtige Patienten. Unsere Site soll diese Lücke für Deutschland,,Österreich und die Schweiz schliessen und aufzeigen, welches Potential diese Zahlen zur Beurteilung von Ausmass und Verlauf der aktuellen Pandemie haben.
Wir sind eine Gruppe von Ärzten in Berlin, die Ende März 2020 dabei geholfen haben, ihr Krankenhaus auf die SARS-COV-2 Pandemie vorzubereiten. Als der erwartete Ansturm an Patienten auf sich warten liess, begannen wir zu recherchieren, wie die Situation an anderen Kliniken und in anderen Ländern ist.
Erste Resultate sind auf unserer Seite www.coronumbers.de publiziert. Für eine Weiterentwicklung dieses Projektes benötigen wir in erster Linie IT-Unterstützung, aber auch zusätzliches epidemiologisches Fachwissen. Es soll vollständig open-source und nicht gewinnorientiert bleiben.
Infection rates and deaths are omnipresent in the official statistics on COVID-19, while hospitalization figures for Germany are difficult to find, especially for patients not requiring intensive care. Our site aims to close this gap for Germany, Austria and Switzerland and to show the potential of these figures for assessing the impact and course of the current pandemic.
We are a group of physicians in Berlin who assisted to prepare their hospital for the SARS-COV-2 pandemic at the end of March 2020. When the expected wave of patients failed to materialise, we began to research the situation at other hospitals and in other countries.
First results are published on our website www.coronumbers.de. For a further development of this project we need primarily IT support, but also additional epidemiological expertise. It should remain completely open-source and not for profit.
Translated with www.DeepL.com/Translator (free version)