Tutor Platform
Herausforderung
NEED: Designers
NEED: Texter*innen/Copywriters
NEED: Finanzierung/Financial support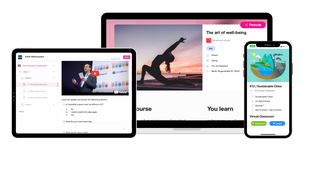 Tutor Platform is a cloud-based all-in-one LMS. It contains a marketplace, e-learning authoring tool, virtual classroom, mobile learning application, CRM, financial components. Education organisations and private teachers-coaches-trainers can set up learning processes from scratch: From starting a school, creating and announcing courses and programs, running marketing with branded registration forms, developing e-learning materials, delivering them on virtual classroom or mobile and tablet applications till observing learning analytics and managing finances.
Tutor Platform is designed for all training providers
Private trainers and mid-sized training centers can use Tutor Platform to
represent and sell their course offerings on marketplace
generate and manage student leads through CRM
create own learning materials ( digital books, placement tests and quizes) with e-learning authoring tool
monitor learners' performance and adjust learning content accordingly
deliver learning content through both on mobile devices and desktop
provide live remote classes through integrated virtual classroom
manage staff and financial resources
send customised notifications
have their own subdomain
Big training centers, university extension programs, campuses and non-profit organisations can
run their school and learning management
develop own learning content
use CRM
receive a big deal of analytics for each section
run messaging and document management
have own domain, infrastructure and API
have a white labled mobile application
Benefits
All-in-one
Tutor Platform is a self-contained LMS allowing to start the learning management from scratch. This includes:
Customisable
Training providers can customise Tutor Platform as they want:
Integrations
Having been built as a flexible platform Tutor can be integrated with various kinds of applications and tools. Now it is integrated with
Zoom
Liveboard
Lessons Space
Mailchimp
Scalable
Tutor Platform is both technically and business-wise scalable
Analytics
For each section, Tutor Platform provides a bunch of analytical data. We help our customers increase their performance and productivity by making data driven decisions.
White Labling
Enterprises get white labled mobile app, their own domain and API.
At Tutor Platform, we don't sell a solution.
We take time to listen to each of our customer, understand their needs and tailor the platform to meet these needs. Consulting and prioritising the future roadmap together with our partners is the important part of what we do.