April 28, 2021
City of Lindau launches online participation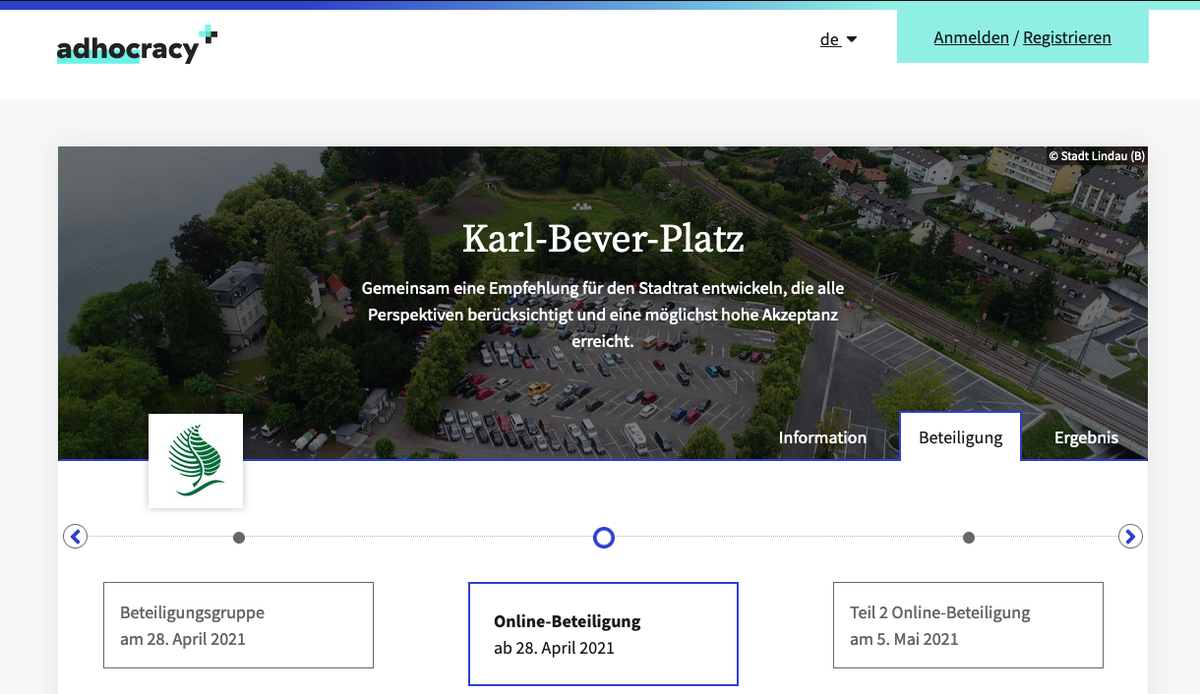 In spring 2019, the Lindau City Council decided on a utilization concept for Karl-Bever-Platz. This was overturned in November 2019 by a citizens' vote. As a result, all parliamentary groups commissioned the development of an open citizen participation process. External specialists were entrusted with developing a proposal for such a process in cooperation with parts of the city council and the administration. This was discussed in the City Council and adopted at the end of September 2020.
Together with the citizens, the city of Lindau is looking for an answer to the question:
"How can Karl-Bever-Platz be further developed and designed in such a way that it serves the general usage needs of citizens and guests in the best possible way, while also fulfilling its function in a city-wide traffic and parking concept (mobility concept) as effectively as possible?"
In the following video, the project initiators explain the added value of online participation with adhocracy+:

All citizens can participate online from 28.04. - 12.05.2021. The results of the online participation will be presented to a "participation group" as additional information and basis for consultation. This group meets three times for intensive consultation. It consists of 36 people and is composed as follows: 21 citizens who were selected through an application and lottery process, 6 members of the city council, 6 representatives of various interest groups (hotel industry, gastronomy, mobility, climate protection, tourism,) two external consultants and one employee from the administration.
We think: This sounds like a very promising participation process!

Here you can access the participation platform of the city of Lindau: beteiligung.stadtlindau.de
Would you like to implement digital participation projects in your municipality? Register your organization in four easy steps and become part of the community!