May 18, 2021
Make online participation easy and accessible for municipalities with adhocracy+!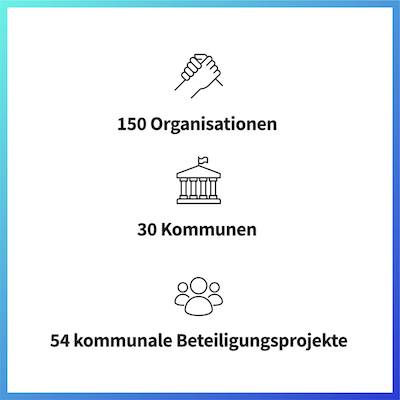 The participation platform adhocracy+ not only enables discussions online, but can also transparently map hybrid processes (online/offline), make information systematically accessible, and facilitate structured debates.
adhocracy+ is characterized by three features: it is quickly ready for use, the use is free of charge and the development and publication of the software is done under the free license AGPLv3 (open source software). These three features contribute to our goal of making participation a given for everyone.
adhocracy+ is quickly ready for use
With adhocracy+, participation projects are easy to set up and you can get started with your projects right away. We have deliberately chosen to keep access to the participation platform as simple as possible. That's why we can create your own organization for you within a few working days. Participation projects can then be created, duplicated, archived and combined with each other as desired. A clear manual supports project initiators in using the platform and creating participation projects.
While adhocracy+ can be installed on your own server, it is recommended for most organizations to use it without an own installation, because in this case no technical knowledge is required and the maintenance is completely taken over by us. The big advantage of this Software as a Service (SaaS) platform is that all using organizations benefit from further developments and security updates.

... is free of charge
As a non-profit organization, we pursue the goal of promoting democratic governance, particularly through the development, testing and use of the Internet as a medium for information, political discussion and citizen participation in decision-making processes. This should be equally possible for all participants. Therefore, it is only natural for us that the use of the platform is free of charge and thus contributes to achieving our goal.
Nevertheless, costs arise for the development and maintenance of the platform, which we would like to cover in part through donations. For this reason, there is also an call for donations on the platform. In addition, optional services can be ordered from us to help organizations and communities in implementing successful participation projects. These include a custom URL, training, a support package, and initial setup of the platform for a municipality. In the municipal sector in particular, for example, a custom URL offers enormous advantages for drawing people's attention to their own participation platform and keeping them on their website. Only recently, the city of Arnsberg, among others, opted for this variant of its own individualized URL https://beteiligung.arnsberg.de/.

... is open source
adhocracy+ is an open source participation platform hosted on servers in Germany. The non-profit Liquid Democracy e.V. has deliberately chosen to develop open source software in order to ensure the highest possible transparency and security for the participants and to strengthen trust in the software. Especially in the case of political participation, it is important that external verification of how our tools work is possible.
Those who do not want to use adhocracy+ as SaaS have the option to set up an installation on their own servers and further develop the platform independently. For organizations and municipalities with IT resources, an own installation can therefore be an interesting option. A good example is the participation platform teilhabe.diid.hhu.de of the Düsseldorf Institute for Democracy and Internet (DIID) of the Heinrich Heine University, which is based on adhocracy+ and hosts participation projects of the university.
adhocracy+ can be found on GitHub and can be further developed together with us.

adhocracy+ for municipal citizen participation
Digital citizen participation at the municipal level offers the chance to bring more transparency into decision-making processes, as well as to promote a stronger identification between citizens and their own environment. It also strengthens trust in democracy and the actions of politics and administration. With adhocracy+, the participation process can be simplified and access to different formats can be increased, independent of time and place.
30 municipalities use adhocracy+ and thereby strengthen digital democracy. Three particularly committed cities are briefly presented below:

Lindau - controversy over space in the city center.
In the city of Lindau, adhocracy+ has become an integral part of the participation culture and a multi-phase online participation process on Karl-Bever-Platz is currently underway there. In an open citizen participation process, a participation group is working together with citizens of the city of Lindau to develop a concept for the use of the square. At https://beteiligung.stadtlindau.de/ the platform is ready and it can be participated and discussed!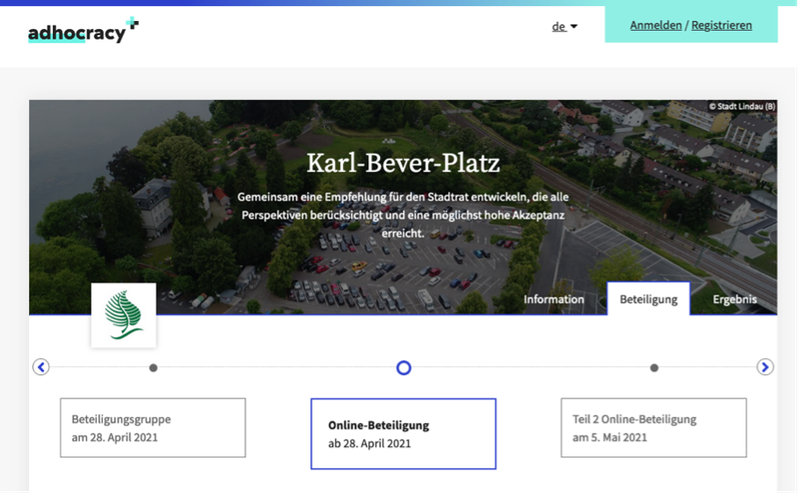 "The start of our online participation is a milestone for the city of Lindau. The initiators of adhocracy+ have supported us in all questions from the beginning. Their advice, which goes far beyond purely technical support, is very valuable for us." Alexandra Abbrederis-Simpson, Citizen Participation City of Lindau (Lake Constance)
In this video, the project initiators explain the added value of online participation with adhocracy+.

Winsen (Luhe) - formal urban land use planning with adhocracy+
adhocracy+ is also used for formal citizen participation. The city of Winsen (Luhe) used the Brainstorming module for a planned early public participation for a development plan for 30 single and double houses. The online participation took place in addition to an information event, which also gave those who could not attend the event the opportunity to participate.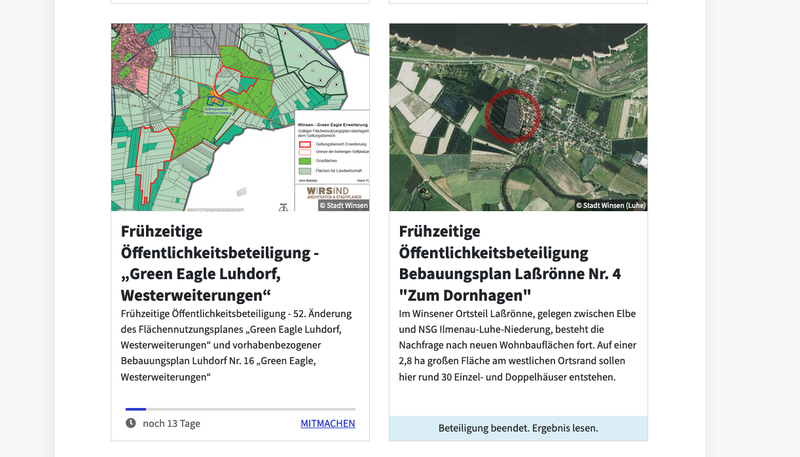 Inga Fiss, urban planner in the city of Winsen (Luhe) is convinced:
"adhocracy+ also reaches the interested citizens who do not want to or cannot participate in face-to-face events - a huge benefit even beyond Corona. Furthermore, the use is uncomplicated and versatile and thus improves the output of participation processes enormously."

Arnsberg - Smart City Strategy and Consultation with the Mayor
The city of Arnsberg has had its own organization set up on adhocracy+, which is available at beteiligung.arnsberg.de. For example, the mayor of Arnsberg regularly holds an online consultation hour via the "interactive event" module, where citizens can ask questions live via the platform. In addition, an online participation for the Arnsberg 2030 Smart City Strategy is currently underway. Participants can submit project ideas and discuss various topics such as mobility and climate online. Feel free to take a look!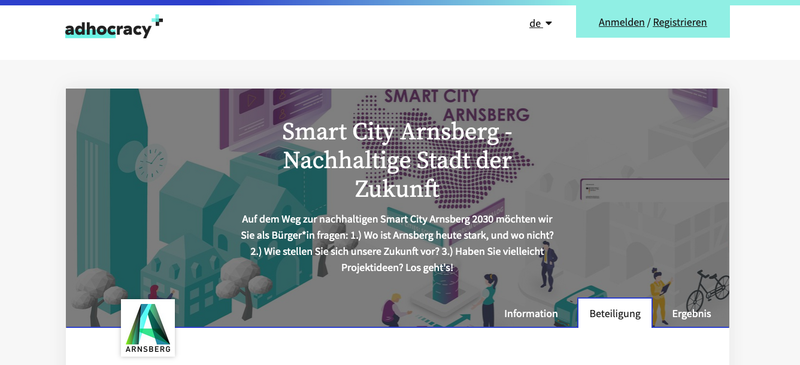 Ralf Paul Bittner, Mayor of the City of Arnsberg:
"adhocracy+ has opened up completely new possibilities for us to actively involve citizens of our city in important future issues. Especially in times when personal interaction is rare, the platform is a simple, often time-independent and low-barrier offer to get involved. In the meantime, we have had very good experiences in many projects, whether with polls, collecting new ideas and suggestions, or even with live consultations. The response is getting bigger every time."
Together with initiators from numerous organizations, the majority of them municipalities, we collected and discussed ideas in a workshop on possible further developments and gained exciting new insights into the needs of users. We would like to further develop the "poll" module and need your support! We would be happy if you donate to us and help to make adhocracy+ even better.
Stay up to date with our newsletter.
Curious? Register your own organization on a+ in four easy steps and start your first participation project!
Here you can test adhocracy+.